Welcome to Boo Bears Baubles. To purchase anything you see on our pages you can e-mail us through the Contact Us link at the top of the Home Page or simply put the item in your shopping cart and check out through Paypal
See our newest additions
DARREN RUNWAY
PINK AND GREEN GLASS MASSIVE CUFF BRACELET
GIANT GREEN CABOCHON CHANEL
CUFF BRACELET
Come Visit Our Designer Pages as Well as our Un Designer Pages for the Most Wonderful, Fun and Extravagant Pieces of Jewelry you could ever hope to wear.
Our Goal is to Keep you Dripping in Jewels and to Smile as you Shop, get a nice tall Glass of your favorite Drink, Sit Back, and Enjoy the Show.
Check out More of our Goodies at our Rubylane Shop with the same name Boo Bears Baubles by Clicking the link at the top of the page.
Shopping our Website is easy....
We would be glad to help you; simply contact us via our web site email and be sure to visit our site often to see what's new.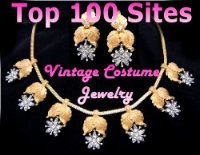 Sheri Weiss
360 West 22nd Street Apt 2f
New York, NY 10011
Tel: Please e-mail offers

There is more for sale in our Rubylane shop. To get there- Please click here: